Just because we are called Madison Copier doesn't mean that copiers are the only things we deal with. We have expertise on just about any type of office print and copy solution that you may encounter. We pride ourselves on giving you the best advice to make your business run smoother, so today we want to discuss some helpful scanning tips.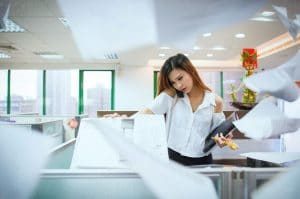 Just like any other job your copier completes, it's important to make sure you have the right technology for the job at hand. If you are someone that relies on scanning for the success of your business then you need to get a machine that can keep up with your needs.
There are about three things to consider that can drastically help you when scanning.
Having the right type of scanner for the demand
Making sure you have an automatic document feeder
Installing a metal detector
Standard desktop scanners can complete around 10 scans per minute, while high-powered machines can scan up to 1,000 pages an hour. This is not insignificant if you are scanning often.
Next, an automatic document feeder will automate the process of having to actually load the paper in to the scanner. The machine will do it faster than you would be able to, and will free up time for you to focus on other tasks.
Finally, getting some sort of metal detector for your machine will help you identify and staples, paper clips or any other small metal in your documents. These small pieces of metal can severely damage your machine if you don't find them early.