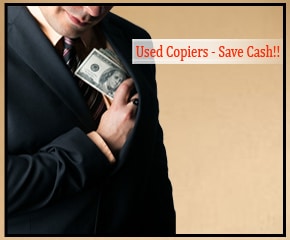 We know that your business is important to you. When you spend most of your free time and money building your business, your bottom line is at the forefront of your mind when making investments in your business. Of course, you always want top of the line office equipment in order to keep up with the competition but you don't necessarily want the high price tag. If this sounds familiar, why not consider buying one of our used copiers? 
You may be hesitant to buy one of our used copiers for fear of getting a lemon.  Rest assured, our factory refurbished used copiers are looked over carefully by trained copier technicians.  We are focused on recognizing and then resolving any maintenance issues.  We want you to get a great deal and a top of the line machine when you buy one of our used copiers. 
If you have ever leased a copier, you know that the copier leasing company maintains its machines. You might be interested to know that many of the used copiers for sale in our inventory were leases in the past. The commitment to timely maintenance means that you will be getting a great deal!
If you want to learn more about our used copiers for sale in Madison, please give us a call today!