If you are in need of a reliable copier for your business but are concerned about payments, then we have options for you. At Madison Copier we have solutions for those tight on money. Our selection of used copiers is from the best brands that you've grown to trust.
Used copiers are a great option for those who are concerned about monthly cash flow. With a used copier you make one larger upfront payment and never have to sign with a leasing company. This gives you the freedom to move forward with the bigger plans you have for your company.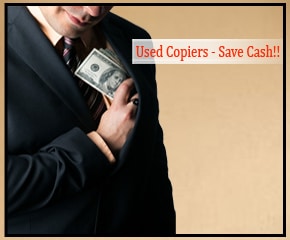 The main concern we hear about used copiers is the fear of a breakdown. Many people are concerned that they will be inheriting a problem someone else never fixed. That is rarely the case at Madison Copier.
We make sure that all our copiers come from responsible businesses that followed the rules of their lease. This helps to ensure that our used copiers were maintained and kept in great shape in their past lives.
Many leasing companies also offer deals with copier owners on maintenance and service contracts. This means that you can get the same great service offered by leasing companies, without having the be obligated with a monthly lease payment.
At Madison Copier we believe in making copier sales easy for everyone. We have experience setting up businesses with the perfect copier to fit their needs and their budget. Call Madison Copier today to get yourself set up with an amazing used copier today.